Free Shipping $600 or above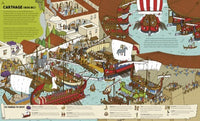 Ancient World Magnified
Regular Price

$240.00

Sale Price

$240.00

Regular Price

$0.00

Unit Price

per
Travel through time, grab your magnifying glass and seek out incredible facts about ancient history in this search-and-find adventure, packed with over 200 things to spot!

Spanning continents and covering thousands of years, this fun, lively book shows how the people of these vanished civilisations lived and how their societies evolved. Explore the lives of ancient Greek Gods, meet fearsome gladiators from ancient Rome and uncover the mystery of the Aztecs.

Explore civilisations including:
BabyloniaCarthageQin DynastyMayaMongol EmpireKingdom of Zimbabwe

... and many more, with a dedicated two-page spread for each one, brimming with hidden detail and bustling with action.

Use the free magnifying glass to spot more than 200 ancient world-themed items in each eye-boggling illustration.

From David Long, the author behind Pirates Magnified, Egypt Magnified and Castles Magnified, this book will inform and entertain even the youngest historian for hours on end.
Author : David Long
Illustrator : Andy Rowland
Ages : 6-9 years 
Format : Hardcover – Picture Book